Father John Karcher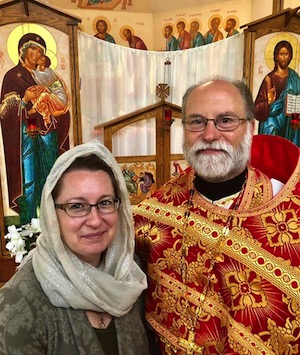 Father John and Matushka Eva Karcher arrived at St. Nicholas September 1, 2019, along with their children Anna, Melanie, Maria, Naomi, and Nicholas.
Father John's previous parish was St. Innocent in Pleasanton, California, for about seven years. Before that he was attached to St. Nicholas in Saratoga, California, assisting Father Basil Rhodes. It was while attending St. Nicholas in Saratoga that Father John was ordained to the deaconate and priesthood by His Eminence Archbishop Benjamin of San Francisco. Both ordinations happened on May 9, the Feast of the Translation of the Relics of St. Nicholas to Bari.
Father John and Matushka Eva lived for six years in Thessaloniki, Greece, where Father John studied theology. Their daughter Anna accompanied them there, and Melanie and Maria were both born in Thessaloniki. Naomi and Nicholas were born a few years after returning to the United States.
Father John is looking forward to serving the parish of St. Nicholas and welcoming friends, visitors, and seekers here in Portland!
Deacon Igor Beskorovaynyy
Deacon Igor Beskorovaynyy has been a member of St. Nicholas Church since 2007 after moving to the United States from Russia.
He served St. Nicholas parish as a reader, a subdeacon, and in 2014, he started serving as a deacon after being ordained by Archbishop Benjamin.
In 2008, Deacon Igor and his wife Nina completed a two-year educational program at the Theological College of St. Philaret's Orthodox Christian Institute. In 2010,Deacon Igor started a higher theological education at St. Philaret's Institute. At present, Deacon Igor is working on his thesis in liturgical theology for a bachelor's degree.
Deacon Igor and his wife Nina have two daughters, Yana and Anna, who both were born in the United States and baptized at St. Nicholas Church.
In addition to his ministry at St. Nicholas parish, Deacon Igor works as a full-time computer engineer.